Game News Stray: here are the three cute felines who inspired the hero of this indie PS5 and PC surprise!
Starting tomorrow, PlayStation and PC gamers will be able to get their hands on a new indie project that's as refreshing as it is adorable. It must be said that a title in which we play a cat, it does not run the streets and it is thanks to this that the teams of Blue Twelve Studios, with the support of Annapurna Interactive, were able to surprise us! But behind this creation, there are cute little felines without whom none of this would have been possible.
Summary
A real-life cat on PS5 and PC

Murtaugh, Oscar, Jun and BlueTwelve, felines for each other
A real-life cat on PS5 and PC
Just by seeing the irresistible face of the main protagonist of straywhen it was presented a year ago, we were already won over. A strong impression that was recently confirmed through our test that we leave it to you to read to find out everything about the title from BlueTwelve studios. Know that, if these few lines manage to convince you, it will even be possible to try your hand at the title without paying a penny since it will be accessible within the PlayStation Plus program for Extra and Premium subscribers. And there is a way that many players are tempted!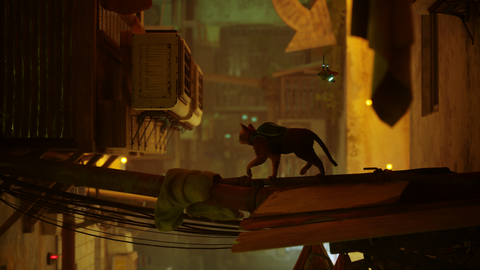 It must be said that in addition to being cute, Stray will require very little space on the hard drive of your PC or your PS4 and PS5 consoles compared to the "AAA" that will keep you busy all summer. During this adventure of a few hours, you will therefore travel through a city covered in neon lights in the shoes of an extremely agile and intelligent stray cat. However, behind this adorable face hides three real felines to which the members of the studio paid tribute before celebrating, in their company, the launch of the title.
Murtaugh, Oscar, Jun and BlueTwelve, felines for each other
Bringing a cat to life in a video game and, what's more, controlling it from A to Z, is no small feat. But, to the delight of the co-founders of the studio at the head of this project, they were able to count on the participation of Murtaugh, Oscar and Jun, three cute balls of hair without whom Stray's cat would not be what it is today ! First of all, therefore, we find Murtaughnicknamed "the Boss", who lent his features to the feline that we embody throughout the adventure. Actually belonging to one of the studio's co-founders, it's a bit of his nature that he passed on to the cat of stray since it was a wild cat from the streets of Montpellier before it was adopted!
However, the hero of stray isn't just about Murtaugh's dress! Its realistic appearance also comes from the fact that another cat, a sphynx named Oscar, has also gotten its hands dirty. ! Thanks to his participation, in particular via recordings of his jumps and races, the animators and coders were able to reconstruct, at the same time, the complexity, the subtlety and the precision of the movements of a cat. The last feline mentioned by the teams, Junehad a completely different but nevertheless crucial role: that of relaxing while ensuring that the teams respect the theme of the game as they were committed to!
---