Have a societal and/or environmental role? This is obvious for almost all the brands (97%) questioned by Cision and the Advertisers' Club. 76% of marketers and communicators (MarCom) even believe that promoting CSR values ​​is a question of survival for their companies, reports the third edition of this Brand Engagement Barometer. While the commitment trend remains strong, the figure is nevertheless down four points in one year (80% in 2021).
At the same time, the study shows an increase in the number of MarCom professionals who consider that "engagement is just a marketing trend" (27% in 2022 compared to 23% in 2021). When 80% deplore a feeling of "CSR washing" on the part of brands. For Cision and the Advertisers Club, these figures reflect a "certain maturity" acquired by brands. Because it is probably thanks to this sincerity that brands will be able to regain the trust of their customers.
2/3 of brands are engaged in concrete actions
Near two-thirds of companies have taken concrete actions in terms of commitment. A figure (63%) slightly down compared to 2021 (68%), but which is explained "by the fact that marketers and communicators have raised the commitment cursor beyond simple daily eco-responsible gestures", notes the Brand Engagement Barometer.
More than half of the respondents indicate that these commitments impact the development strategy (change of business model, perimeters, strategic reorientation, etc.) of the company. To manage these commitments, 59% of brands have a unit dedicated to CSR (+2 points vs 2,021), reporting directly to General Management in 65% of cases. The marketing/communication department is losing ground: 8% of these dedicated cells are attached to them, compared to 13% in 2021. Moreover, the arrival of a CSR department in companies is already encroaching on the scope of communication, according to 57% of respondents, and 53% of MarCom believe, in 2022, to have enough power and legitimacy internally on these subjects (compared to 62% in 2021).

Read also: [Best-of] CSR trends to remember from the start of the year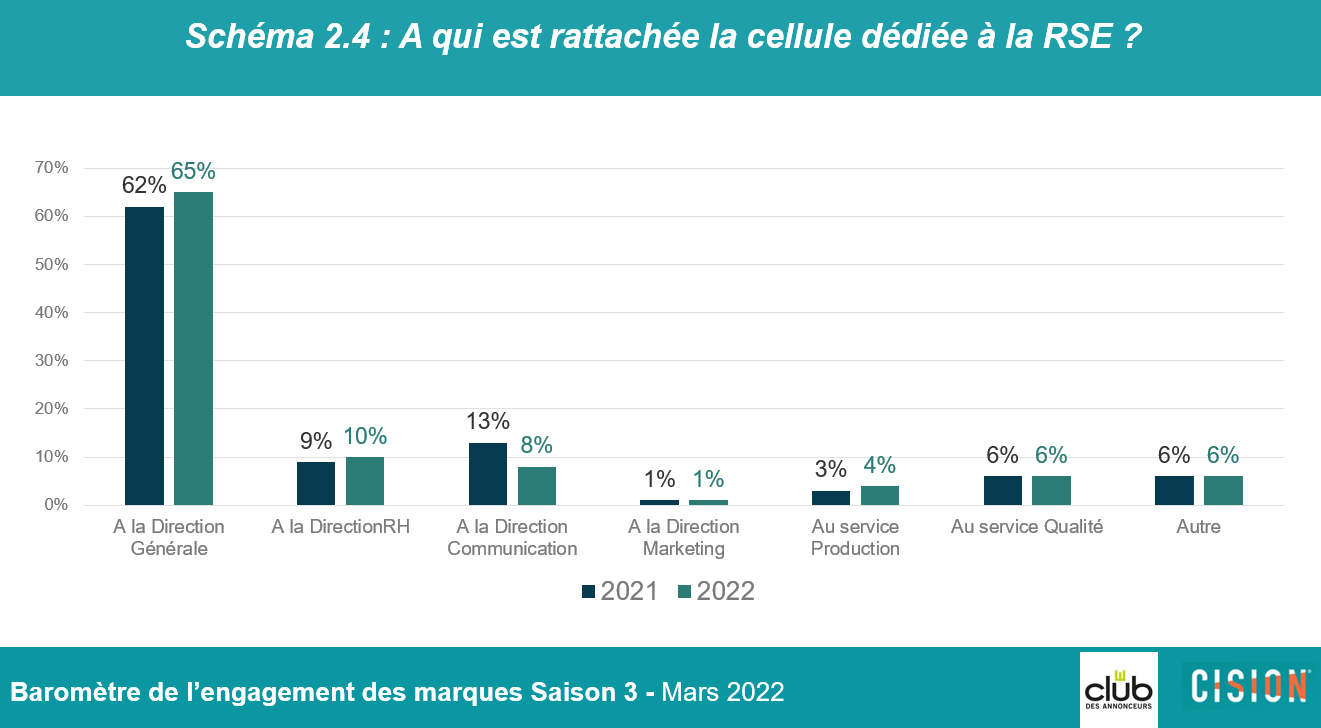 Priority commitments: employee well-being and ecology
Has the pandemic played a role in brands' engagement choices? For a third of respondents to the study, the health crisis has indeed influenced their commitments: human capital is now the priority for companies. 21% of brands thus make employee well-being their priority commitment.
But the Environmental "E" far surpasses the "S" of the societal of CSR : reducing the carbon footprint (19%), green internal practices (13%) and sustainable purchasing and production (12%) come far ahead of diversity and inclusion (7%) and gender equality /men (5%).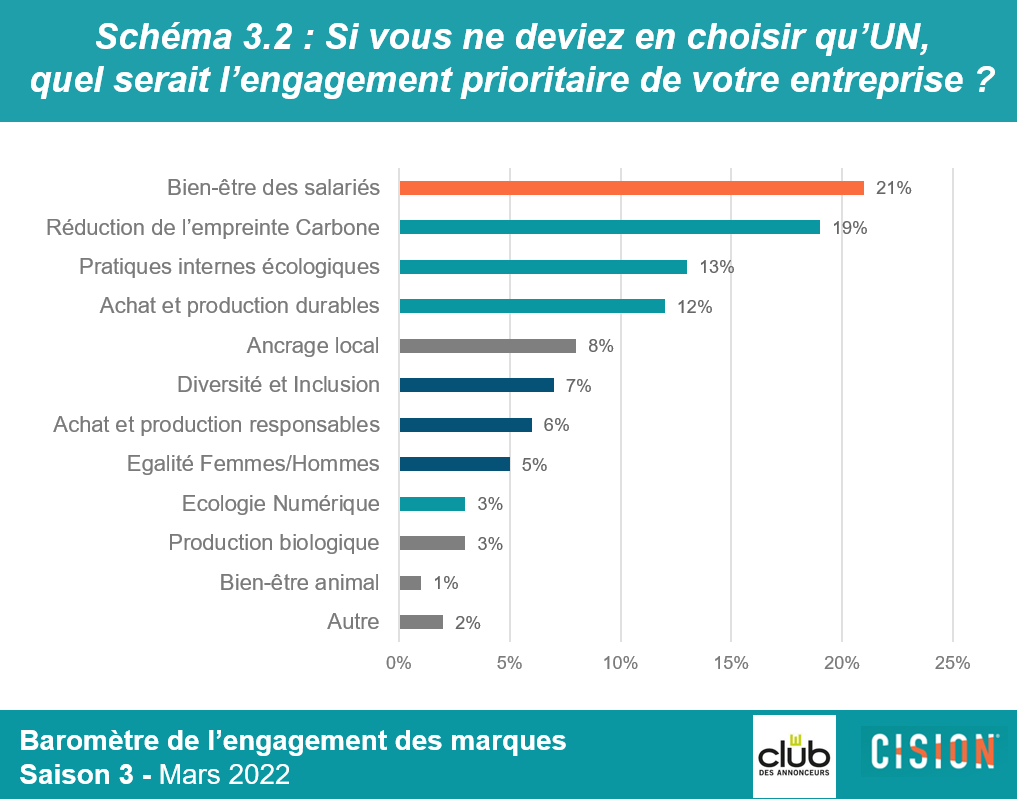 "Contribute positively to the society in which we live" is the number 1 reason for brand engagement (30%), far ahead"the climate emergency", tied with "the legal framework and the new increasingly incentivizing regulations" (19%). In last place, only 15% of respondents indicate that their company is motivated by considerations of brand reputation. And yet 77% of them recognize that CSR has a positive impact on marketing performance.
Engagement marketing: an "ROE" that is difficult to measure
The impact of an engagement strategy remains difficult to measure. Only 8% of companies manage to determine an ROE (Return on Engagement) and 29% come close. Half admit they can't do it, and the remaining 13% don't even try.

Read also: What budget for a good influencer campaign?
Despite this obvious difficulty in measuring commitment, 25% of respondents already comply with precise specifications concerning ESG indicators (Environmental, Social & Governance). These indicators make it possible to link financial performance, sustainable development strategy and responsible investment. This figure rises to 38% in companies with more than 500 employees. On the other hand, about a third of the marketing communication professionals questioned did not know the concept of ESG indicators.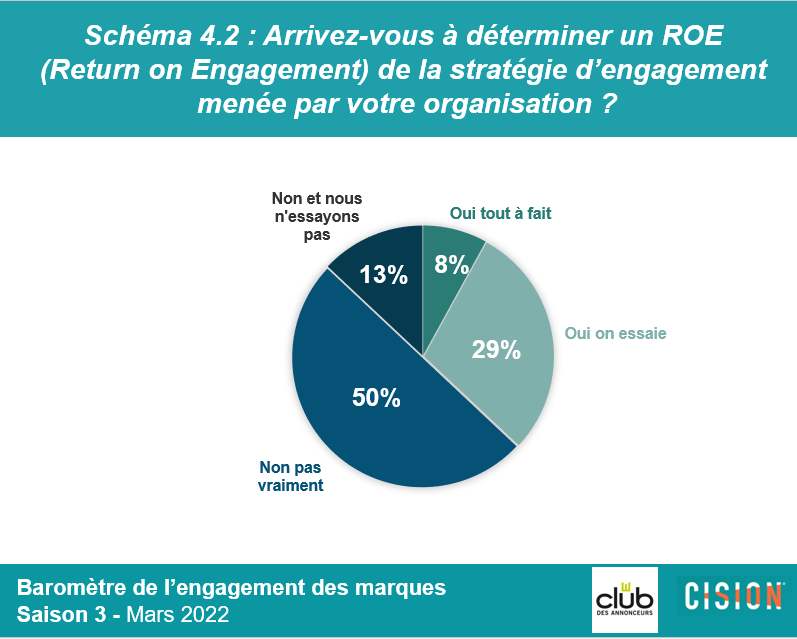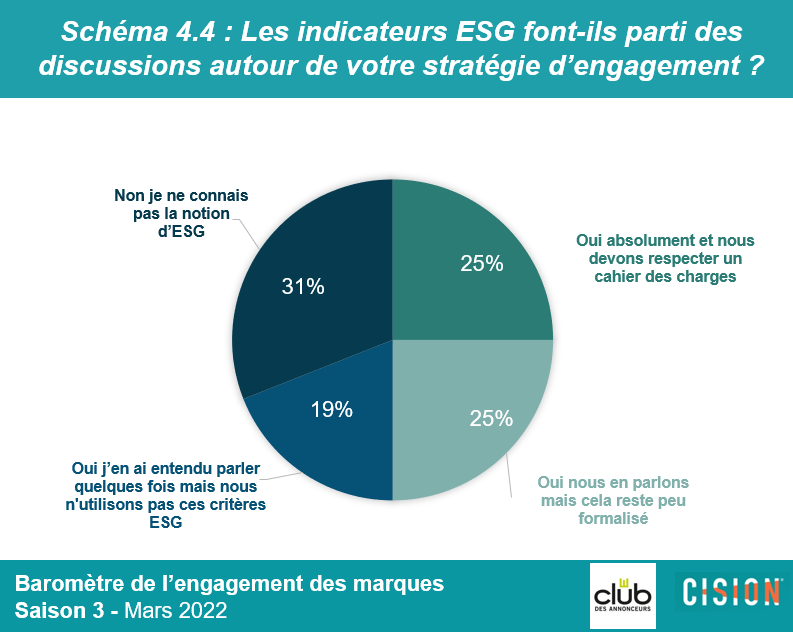 Not even afraid (of bashing)!
According to the Cision/Club Advertiser Barometer, communicators free themselves from the fear of bashing. 94% say that a brand must communicate on its commitments: strong growth compared to previous years (66% in 2020 and 84% in 2021). However, 56% consider bashing inevitable (vs. 35% in 2021). 98% seek to "give meaning" to their brand and 93% to be more transparent with consumers.
The fear of bashing is decreasing, even as the subjects of communication are becoming more divisive: inclusion, diversity, LGBTQ rights, equality and social justice, marching for the climate, status of women… certain considerations are becoming politicized. More than 3/4 of respondents recognize that in this context, communication campaigns are increasingly sensitive and complex to design.

Methodology : In partnership with Le Club des Annonceurs, Cision carried out a survey on company practices in terms of commitment among 507 marketing and communication professionals in France. The panel was interviewed between February 1 and February 16, 2022.